Shellbrook Golf Course (Pumping Station)
The Challenge
Shellbrook Golf Club operated a manual irrigation system for many years with two 10 HP single phase centrifugal pumps, with no automatic controls, supplying approximately 200 GPM. The system operated at very low pressure resulting in ineffective, poor irrigation. In 2010, Shellbrook installed a new automated irrigation system. It was time to upgrade the pumping system.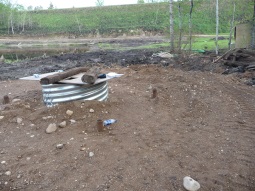 Shellbrook Golf Course Before Work Began
The Solution
The Shellbrook golf club contacted Anderson Pump House Ltd. for a solution to their pumping needs. APH proposed the option of using centrifugal pumps if the golf club was not going to install an intake well, and submersible pumps if an intake well was to be installed.
The club made the decision to install a new intake well. APH designed and installed a new state of the art 500 GPM pumping system to meet the golf course requirements.
As with many rural locations, the system had to operate on single phase power, since three phase power was not readily available. The new pump station included a 3 HP jockey pump and two 20 HP main irrigation pumps. Variable frequency drives were used to control the pumps, as well as convert the single phase power source to three phase power needed for the larger pumps. A self-cleaning screen was installed on the intake to the wet-well, keeping all water entering the irrigation system clean.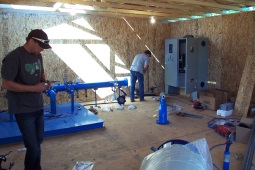 Shellbrook Golf Course In Progress
The Benefits
Since 2010, the pump station at Shellbrook golf course has operated very well, supplying the irrigation needs of the golf course. The system provides clean water, and constant pressure, reducing maintenance in the irrigation system. With a VFD control panel operating the pumps, not only is three phase power created from a single phase source, but energy savings are realized as well. The controllers vary the pump speed to match the demand at any given time reducing the power consumption. The new pumping system is very easy to operate, reduces maintenance on the golf course irrigation system, provides smooth, steady pressure for optimum sprinkler performance and reduces energy requirements.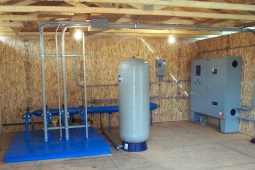 Shellbrook Golf Course Completed