Interlake Regional Water Board (Arsenic Removal)
The Challenge
The Interlake Regional Water Board was formed in 2007 to supply water to the Resort Village of Cochin and four Hamlets in the RM of Meota, located south of Cochin between Jackfish and Murray Lakes. Two production wells were constructed in the Iffley Valley aquifer and a 200 GPM reverse osmosis water plant was constructed to supply water to approximately 500 users in the RM and the village. The RO plant produces high-quality water removing 99% of nearly all dissolved solids.
With a raw water arsenic level of 30-32 ug/l, it was anticipated that the RO plant would reduce the arsenic to below 10 ug/l. (The maximum allowable concentration regulated by the Saskatchewan Water Security Agency). The RO system consistently produced water with an arsenic level of 17-18 ug/l, so an arsenic removal process was necessary to remove the arsenic from the Interlake treated water.
The Solution
Anderson Pump House was contacted to help find a solution to the arsenic problem for Interlake Water. After some pilot testing and research, APH installed polishing filters using an activated alumina product called ActiGuard AAFS50. Two 1600mm filters operating in series were required to handle the peak RO plant flow of 200 GPM. The system was installed in 2010 and has produced water with arsenic levels very near 0.0 ug/l ever since.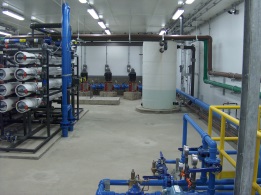 The Benefits
The activated alumina polishing filters have proven to be a reliable, simple, effective, and easy to operate solution for arsenic removal for Interlake Water. It appears that the filter media beds will operate for several years before replacement, resulting in very low operating costs for the utility. The very low TDS level of the RO water is an excellent application for the ActiGuard AAFS50 media and the media meets the necessary environmental landfill requirements when it comes time for disposal.
The water supply from Interlake is now safe and the 500 plus customers do not need to worry about trace levels of arsenic in their water supply.