Candle Lake Golf Resort Water Treatment Plant (Iron Filters)
The Challenge
Candle Lake Golf Resort located on the southern shore of Candle Lake constructed a new water reservoir and pumping station in 2005 to supply water to the resort complex, campsites and surrounding housing subdivision. The ground water source was of exceptional quality and it was anticipated that the only treatment necessary would be chlorination. A sequestering agent was added to the water supply to help keep the small amount of iron and manganese in solution keeping turbidity levels low enough to meet regulations. With the seasonal nature of the water demand and periods of low consumption in the development phases of the resort complex, the sequestering did not work as well as anticipated. This resulted in turbidity levels exceeding provincial regulations and Candle Lake Utility had to enhance their treatment process.
The Solution
Candle Lake Utilities Ltd. became the operator for the water system at Candle Lake Golf Resort. Anderson Pump House was contacted by Candle Lake Utilities to resolve their water problem. In collaboration with the Candle Lake Utilities, their consultant and APH, a manganese greensand filtration system was designed and installed in 2012. Candle Lake Utilities now produces iron and manganese-free water and is able to meet provincial regulations for safe, clean, potable drinking water.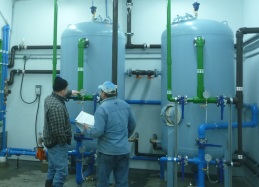 The Benefits
Candle Lake Utilities now produces quality water that meets provincial regulations. Anderson Pump House was able to help the utility with an affordable, effective solution to enhance the existing water plant and resolve the turbidity issues at Candle Lake.