RM of Battle River (Delmas Pumping System)
The Challenge
The Hamlet of Delmas, located 30 km west of the Battlefords, had operated an old style pumping system since the 1970's. The 3 HP centrifugal pumps, controlled by pressure switches, constantly started and stopped resulting in pump motor failures, pressure tank failures, and constant pressure fluctuations in the hamlet distribution system. This system was similar to what was installed in many small communities in the 1960's and the 1970's.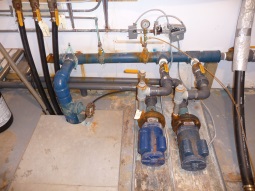 Dalmas Pumps Before Repalcement
The Solution
In 2013, Anderson Pump House was contacted to recommend a new pumping system for Delmas. A Grundfos Booster-Pac constant pressure pump package was installed in place of the old centrifugal pumps. This new system has operated extremely well for the past 2 years.
Dalmas Pumps After Repalcement
The Benefits
The Grundfos Booster Pac pumping system now provides smooth constant pressure to the hamlet. With a very sophisticated control package, the pump speed matches flow requirements. Significant power savings are realized during periods of little or no flow.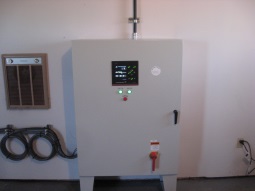 Delmas Control Panel