Atton's Lake Regional Park (Water Treatment Plant)
The Challenge
Atton's Lake Regional Park, located on the south side of Atton's Lake, 40 km west of the Battlefords, includes a collection of summer cottages, a golf course, a laundromat, a park booth, a concession, several public washrooms and trailer camping sites. The park supplied water from a shallow well and sand points for over 30 years with no water treatment. With the new water regulations that came into effect in the early 2000's, the park needed to start treating its water supply.
All water sources contained iron, manganese, varying levels of total dissolved solids, TOC's, ammonia and due to the shallow aquifer and nearby lake, the water sources were deemed to be GUDI (groundwater under the direct influence of surface water). The local park board was faced with a challenge!
The Solution
Atton's Lake Water PlantAnderson Pump House Ltd., a long-term supplier to Atton's Lake, was asked to develop a water treatment solution for the regional park. After evaluating all of the water sources, conducting extensive site investigations and water testing, a new reverse osmosis water plant was proposed, designed and installed in collaboration with the regional park's consultant.
The new water plant has been in operation since the spring of 2014. It is always a challenge to design a system that operates seasonally, where one day a plant needs to produce 75,000 litres and the next day 2500 litres.
RO concentrate water (reject water) is always a concern when looking at a reverse osmosis water plant where there is no sewage collection system. APH was able to divert this water into a nearby holding pond, which is used to supply irrigation water for the golf course. It was a win-win situation for the water plant and the golf course, as the small volume of concentrate had virtually no effect on the irrigation water.Table Properties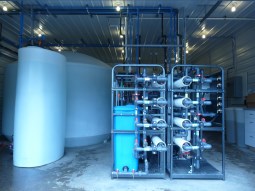 The Benefits
The Atton's Lake Regional Park water plant produces very high quality, clean, safe water. It is easy to manage and operate, and all customers in the park enjoy the benefit of clean, safe water.
The RO treatment process results in high-quality water with very low chlorine demand resulting in disinfection stability in the operation of the plant. Other water plant challenges associated with TOC's and ammonia are eliminated with reverse osmosis. The innovative handling of the RO reject water eliminates the need to haul this water away by truck, substantially lowering operating cost for the regional park.